Share a unique tasting experience with your customers and associates.
The Boss' promise :
authentic, healthy, and guilt-free pleasure
to be shared without moderation.
Share a gourmet tasting experience with your associates.
Welcome box, end-of-year gift box
(fully customizable)
« Gourmet Motivation » basket 
Oven-baked madeleines for your weekly team meetings, to enhance your office snack selection, to complement your corporate retreat catering or to send in a delicious care package to your remote employees.
Option to set up a madeleine bar to celebrate a team achievement, to congratulate and motivate your team.
The Art of Tasting according to The Boss ©
For your team building and emotional intelligence workshops, live a unique tasting experience that will take you through a unique sensory and tasting journey. Option to create "your team's signature flavor".
Taste — A blind-folded and guided experience
Discover — Universal and personal tasting mechanisms
Communicate — Personal feelings and share them with others
Connect — With your senses, feelings, and memories in a unique way
They already trust the Boss
« Did you know that you could listen to a madeleine? And that this can provoke unexpected and regressive emotions? This is the journey the Boss takes us on. You will never eat anything in the same way after such an experience! »
Laure Bruère-Dawson
Païdià
« It is a real pleasure to work with The Boss. Top quality products made with lots of love and creativity. We love Maison Galata madeleines! »
Vincent Baeriswyl
Le Pointu Lausanne
« The workshop knows how to retreat into its own little bubble to experiment with all our senses. The perfect balance, just like the madeleines, between tasting and culture, theory and experience. Amazing! »
Carolina Carballo-Herrera
Transports publics Lausannois
« We love Maison Galatà's innovative ideas and dedication. For both our team and our customers, The Boss madeleine is simply delicious! »
Marie-Laure Krattinger
Morges Région Tourisme
« It is always a pleasure to order our sweet treats from Maison Galata for our patients who just had a surgery or treatment done. The madeleines are excellent, light, both gluten and lactose-free, a real differentiator! »
Swiss Visio Beau-Rivage
« Whether it is for our gourmet snack breaks, customer gift boxes or simply for our own pleasure, the dazzling and dynamic Boss knows how to satisfy our taste buds. We cannot wait to taste the next batch! »
Sylvie Dupasquier
Ofisa Informatique SA
« Maison Galatà madeleines are the perfect addition to the coffee we serve our seminar attendees. They are also a great additional to our morning and afternoon snack breaks 😉 »
Ohad Barel
Directeur de Oresys Suisse
Create a unique bond with your customers
Customer thank you gift box
Special gesture for your VIP customers
Customizable boxes, possibility to create your signature flavor of the Boss' madeleines.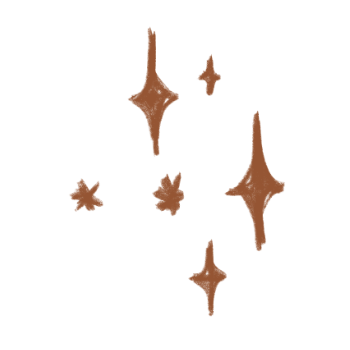 Product launch, store opening or PR event (madeleine bar, art of tasting workshop)
Offer a healthy, tasty and beautiful delicacy to satisfy your clientele's discerning palate
Café, restaurant, tea room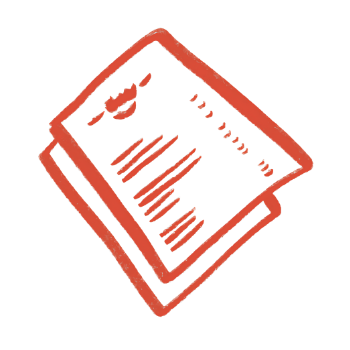 Add a delicate touch to your coffees, hot and cold drinks, snack or desert menu.
Each flavor, format and packaging can be adapted to your establishment in order to provide an ideal tasting experience to your clientele.
Add a gourmet, healthy and delicate touch to your customer experience.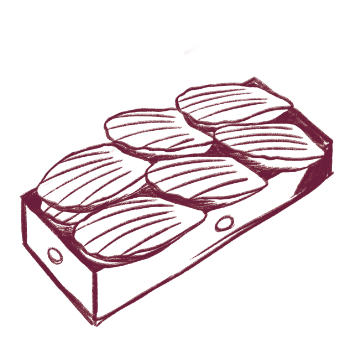 Customer welcome, room-service, breakfast, after spa treatment snack, snack and dessert menu, private event and seminar
(Possibility to set-up a madeleine bar)
Add a new gourmet offering to your product selection
Specialty / Gourmet food shop, concept store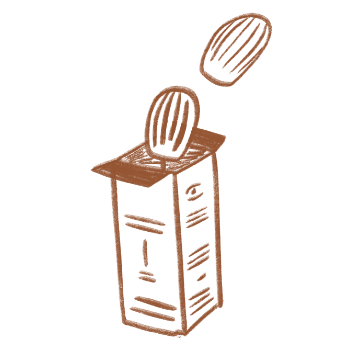 All our flavors, formats and eco-designed packagings can be customized to suit the DNA of your establishment and to speak to your customers' preferences.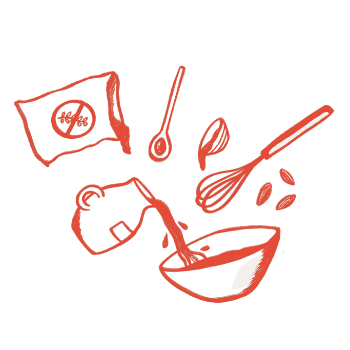 Bring together two worlds
Let's bring together two worlds that complement and enhance each other around a signature recipe, a limited edition or an exclusive event…
Create your signature madeleine that has never been tasted before…
The Boss loves creative collaborations.
Let's get to know each other over a madeleine tasting session.